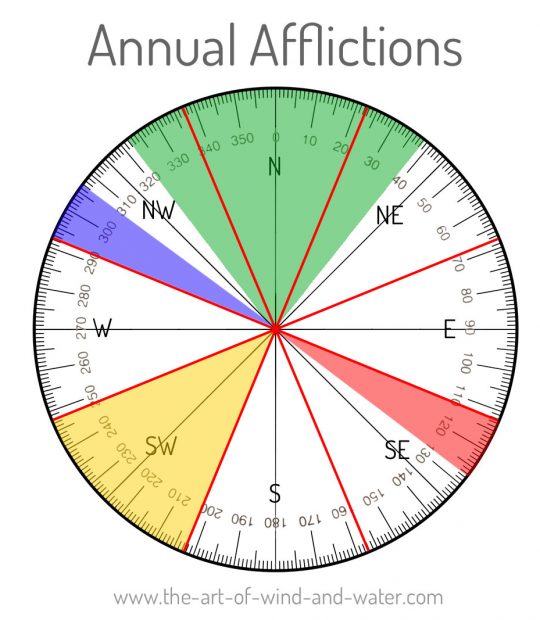 In Classical Feng Shui, the 4 annual afflictions calculation is used to look at yearly influences. These are seen as being unfavourable sectors during times of construction, renovation and when seated towards or away from these directions (depending on the affliction).  Each year the 4 annual afflictions move into another sector on the compass. This is where the 'Time Factor' comes into Classical Feng Shui. Every year subtle changes occur as the 9 Lo Shu numbers move into different sectors in their mathematical sequence. This provides one layer for Feng Shui analysis of your property.
The other annual Feng Shui influences are the yearly visiting flying stars. Visit this webpage to find out about the stars in 2020.
Visit this page to find out the location of the four annual afflictions from 4 February 2020 – 3 February 2021, the year of the white metal rat.
THE ANNUAL AFFLICTIONS
Below is an in-depth guide to each of the annual afflictions, the grand duke, the year breaker, the three killings and the five yellow star.
The roots of these afflictions come from the 8 cardinal directions and the 12 Earthly Branches commonly known as the 12 Chinese Animals.
Animal
Degree
Cardinal
Season
Rat
Ox
Tiger
Rabbit
Dragon
Snake
Horse
Sheep
Monkey
Rooster
Dog
Pig
0°
30°
60°
90°
120°
150°
180°
210°
240°
270°
300°
330°
North
North East
North East
East
South East
South East
South
South West
South West
West
North West
North West
Winter
Winter
Spring
Spring
Spring
Summer
Summer
Summer
Autumn
Autumn
Autumn
Winter