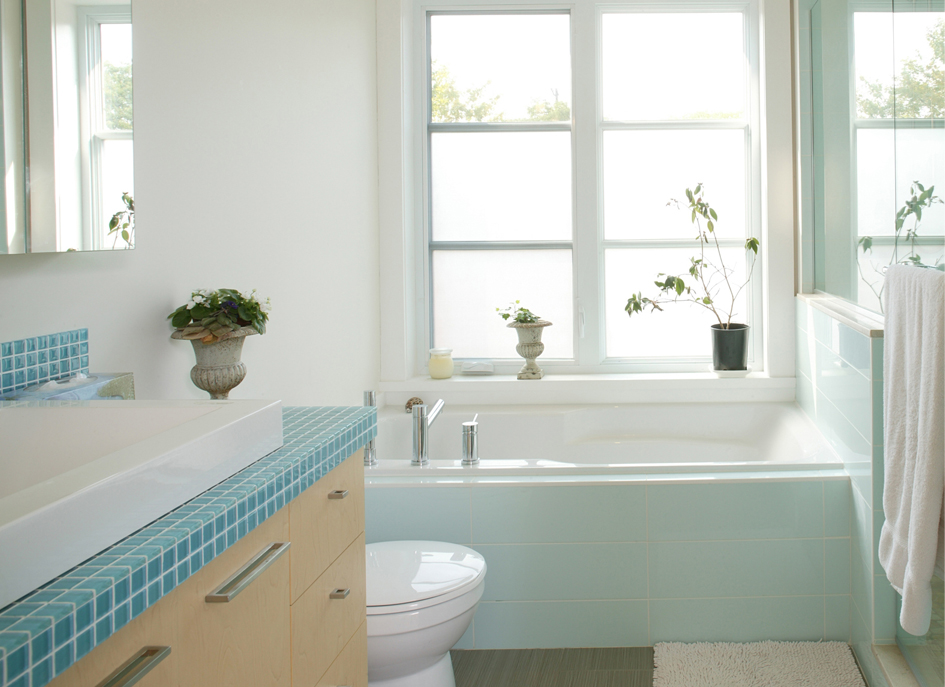 FENG SHUI INTERIOR FORM – BATHROOMS, ENSUITES & WC'S
Bathroom
The WC should be positioned so that it is out of sight from the door. Either behind a door, or in the area behind the door when opened. If the bathroom is big enough, a small partition can be built to provide more privacy (around 1200-1600mm in height).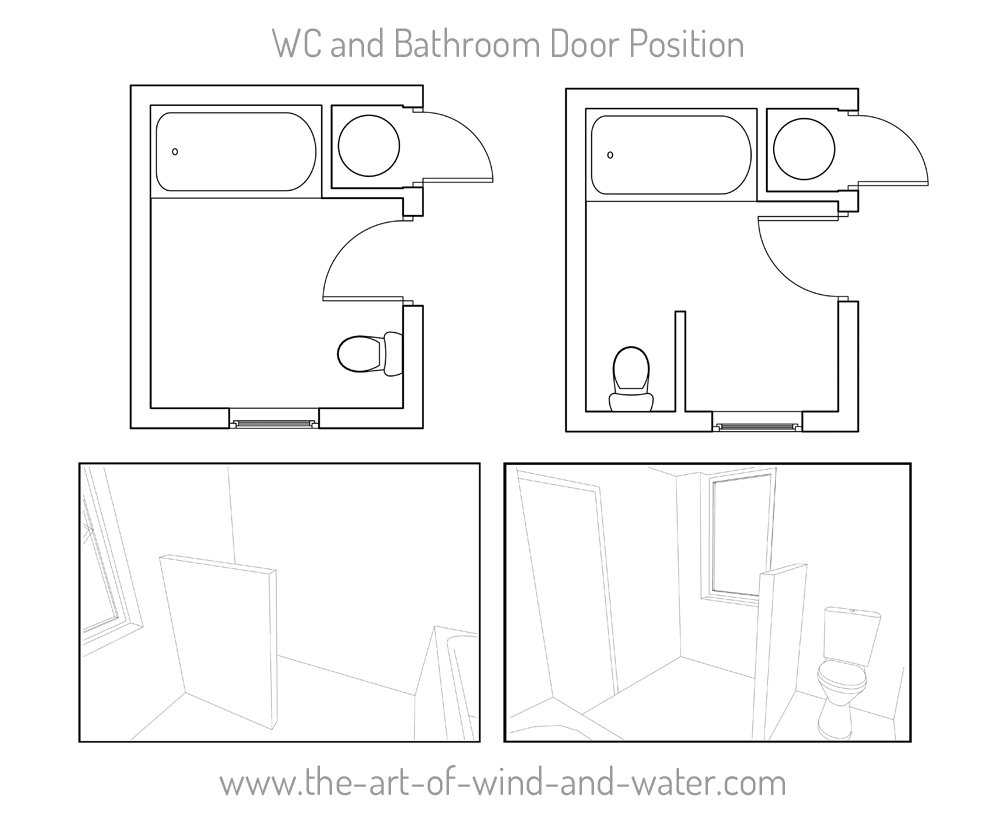 The position of the WC, bath, shower and basin all depend on the existing location of the plumbing services. Typically plumbing runs along the outside walls. A plumber will be able to advise on where fixtures can be relocated to. Your interior designer will also be able to confirm the standard dimensions for space planning in the bathroom.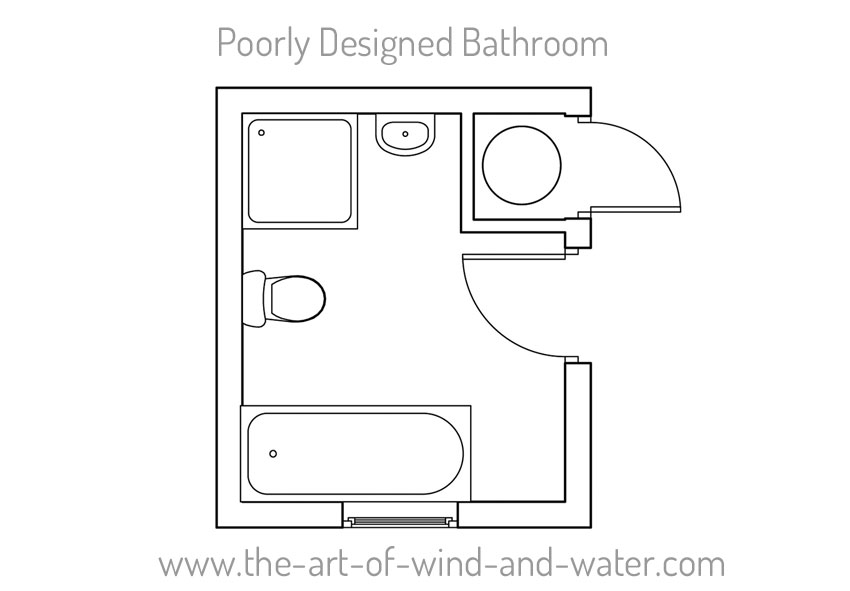 An example of a poorly designed bathroom:
WC in direct view of the door
Part of the bath under the window
Basin cramped between the shower and wall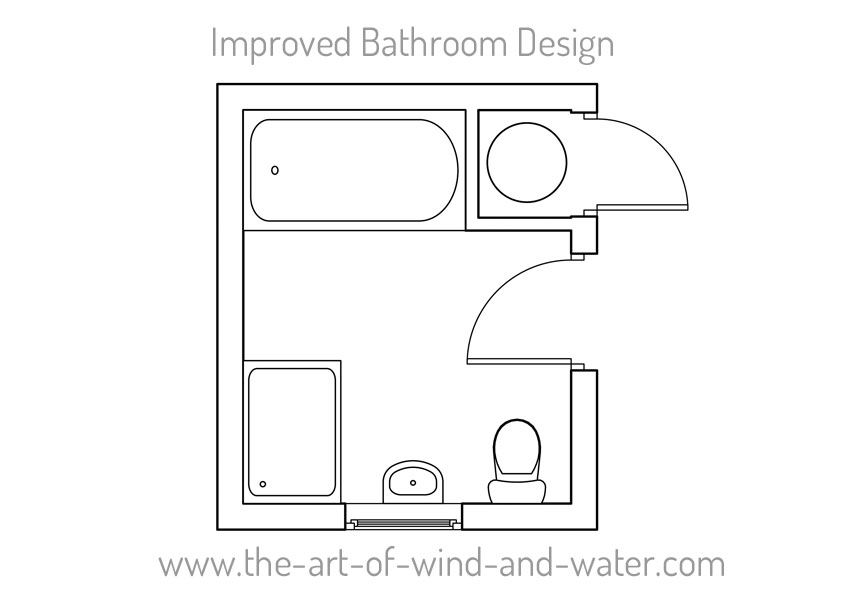 An example of this bathroom re-designed:
WC relocated to behind the door for privacy
Door is re-hung the opposite way
Door does not open onto shower, WC or bath
Bath moved into the alcove (new bath shorter & wider)
New shower to fit in by the window
Basin relocated to beneath the window with adequate space
Floor plan space is increased
Reduction to 1.5 protruding corners (the half is the corner above the bath)
Ensuite
En-suites are difficult rooms from a Feng Shui perspective. If you think in practical terms, the WC is where you release waste from the body, the bathroom is where you wash away dirty water from your skin and the bed is where you sleep to rejuvenate. These are indeed polar activities. Ensuites can cause restless sleep and an unsettled feeling. From this it is not recommended to have en-suite facilities off a master bedroom. If you already have an ensuite, make sure the door position does not face directly onto the WC. Some interior doors can be relocated with minimal building work.
The first example shows a bed that faces the ensuite door and WC. Very poor planning. The second example shows the relocated to door. This does two things; changes the view from the bed and gives privacy to the WC user.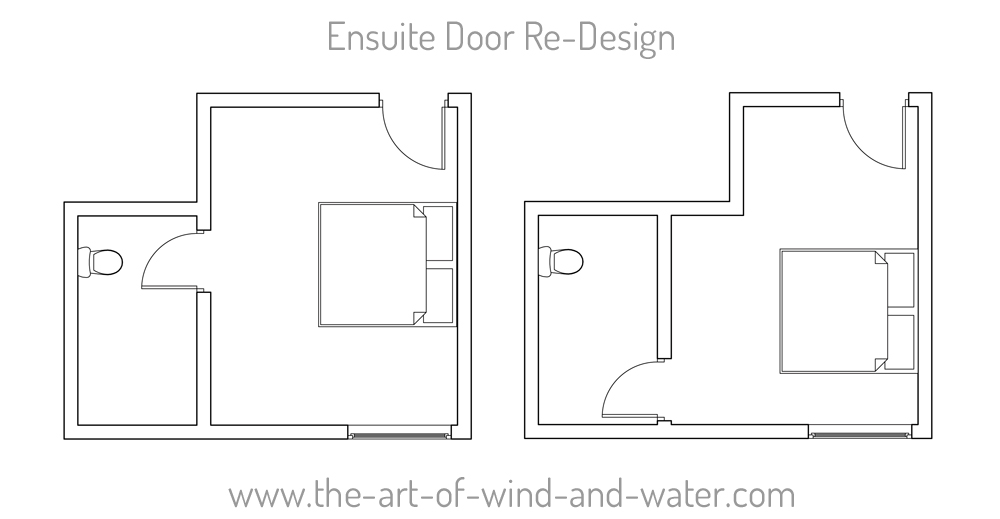 WC
In a WC the dirty water from washing must disperse quickly. This creates a unique type of activity and as such WC's are Yin environments. Take extra care with ventilation in this room as it's important for fresh & natural air to circulate. Have a look at the position of the door and the WC. Make sure it is not in direct alignment, the same goes for the front door, the WC door and the WC. Privacy is paramount here. If the doorway is right in front of you as you use the WC, this creates pressure and frustration. Not a comfortable experience.